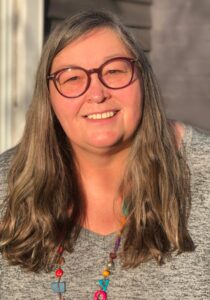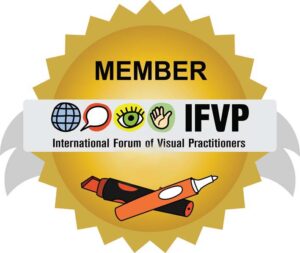 I support businesses and social-purpose enterprises to vision, engage and plan. I use Graphic Facilitation or Graphic Recording to help groups think through, plan and evaluate their initiatives. This technique uses colourful text and simple images drawn by hand on large-scale paper in front of live audiences in person or online. It engages people, helps synergies emerge and improves memory for attendees. Processes are either custom-designed or adapted from well-respected and published processes (World Café, Technology of Participation, Creative Problem Solving, Creative Problem Solving Process, Focused Conversation, MAPS, and PATH) which foster collaborative, inclusive conversations and processes that lead to dynamic and powerful results.
I'm most frequently engaged to support conferences, trainings and in-house meetings as a Graphic Recorder. I sometimes produce infographics for complex ideas or to launch new initiatives in studio too.
I live, learn and work on the shores of Niigaani-gichigami (Lake Ontario). These are the traditional territories of the Anishinaabe, Mississauga and Haudenosaunee, which they continue to share in the spirit of the "Dish With One Spoon" treaty. I recognize my privilege as a settler.